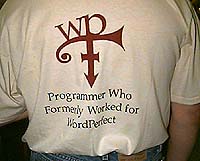 Now available! Ex-Programmer T-shirts! Mardell & I made these 'renegade' T-shirts to wear at WWDC. I ordered a few extras, first come first serve.
Pricing is as follows:

XL - $10
XXL - $6

They're 100% cotton, and they'll shrink quite a bit when washed. If you're interested, give me a call!

---
This image is of Dave Ries, wearing the shirt one night at WWDC. They put it on the WWDC webcast.
---
Return Back to Camelot?